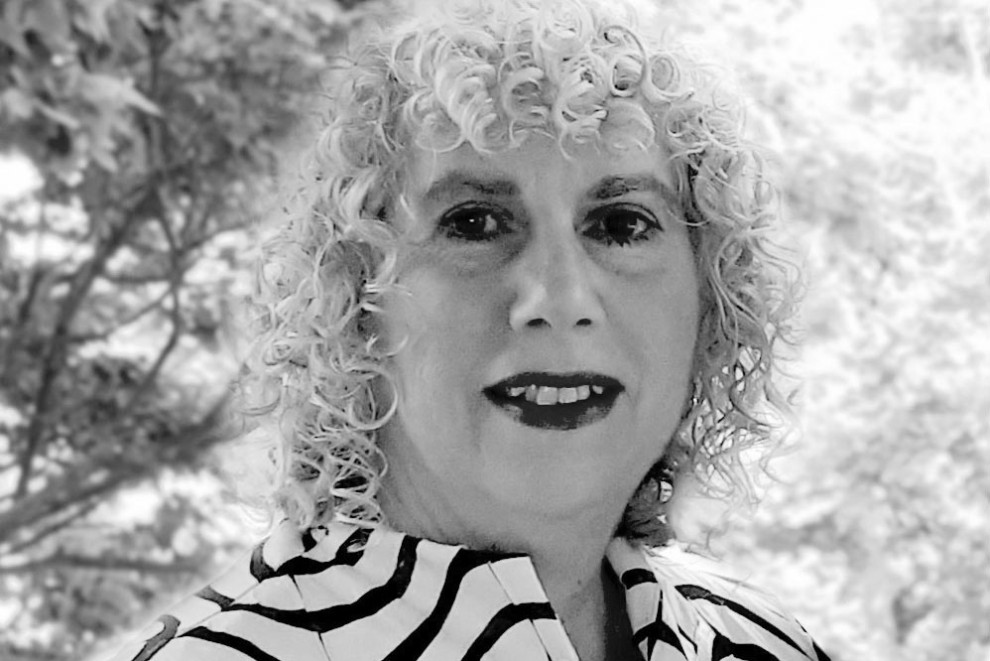 December 2022
Helaine Ortmann
"You don't look 69," said my twenty-something neighbour with the pink hair, still breathless from her morning run up and down the escarpment steps. We'd been talking about aches and pains, and the benefits of exercise, physio and movement.

As a child, I hated looking young, and being young. 

I was mortified to sit in booster chairs with legs dangling, especially in restaurants. Unlike in the present era when getting boosted is a badge of honour, back then it was just plain embarrassing.
I started kindergarten at age four and a half; my teacher promising my mother they'd restart me the following year if I couldn't keep up. I did, and accelerated noch, combining grades three and four. It didn't help matters that I was a pitzel. 

At 16, I attended McMaster University, a 20-minute bus ride from my house. Even today, I flush when I recall how the driver attempted to charge me children's fare. I might be the only HSR patron on record for insisting on paying the more costly student price for public transit.

"Good things come in small packages," my mom always said, bless her heart, doing her best to make me feel better about myself. 

Now, as a senior—a term I use as uneasily as my mother called herself "gramma" after our first son was born—I appreciate the crumbs and morsels from family, friends and strangers when they comment on my youthful appearance, or more importantly these days, on my level of activity and energy.

It means everything to me to keep up, and keep going. This morning, for example, I exercised for three uninterrupted hours … in my kitchen. 

I rolled out and braided the dough for two challahs—a new and essential skill my cousin taught me via FaceTime through the pandemic. No slouch, I insist on the four-braid style for which I need to replay celebrity chef Jamie Geller's video. Senior's moment, I guess. (Right over left, left over right, right down to the middle, replace it, left down to the middle, replace it, repeat.) For my older son, I topped one with savoury Everything Bagel spice; the other I left plain (save for the shiny eggwash) anticipating the French toast my younger son likes to make. 
Retired, yet still a recovering workaholic and multi-tasker, and because I had a container of sour cream stored in the fridge, I also made a coffee cake, courtesy of Barefoot Contessa Ina Garten. This, to freeze, because you never know when you might need it.

I assembled the cake in my well-worn dented 10-inch tube pan (batter, streusel, batter, streusel) while I replied to texts from my French toast-eating son and viewed messages from former co-workers on a What's App group titled "Power Women." 

Checking the recipe to confirm the baking time, I panicked. Did I include one-quarter teaspoon kosher salt in the dough as Ina instructed, or regular salt? Oy vey, did I put in any salt? Senior's moment, I guess again. 
As part of this morning's workout, I cleaned the kitchen counters, using a solution of vinegar, water and a bissel Dove dish soap that I tossed together, courtesy of an Instagram hack. For good measure, I damp mopped the floor, also with vinegar and water. 

Then it was time to change into a t-shirt and workout pants, free from flour and sour cream. Hmm, my 40-minute chair-based yoga routine or 30 minutes on my stationary bike? I shelled a bowl of peas to nosh while I made up my mind.
Five deep inhalations and exhalations later, shoulders and neck relaxed, I heard the front door. My husband was back from his monthly lunch with long-time friends. 

Giddy with excitement at how productive I had been this morning— the smells of freshly baked challah and cake wafting through the house—I joined him on the front porch to relax. 

"You're stopping for five minutes," he noted with approval. 

Long enough to sip a cup of tea. 
Helaine is by nature a trusting person and when someone comments on her youthful appearance she wants to believe them.