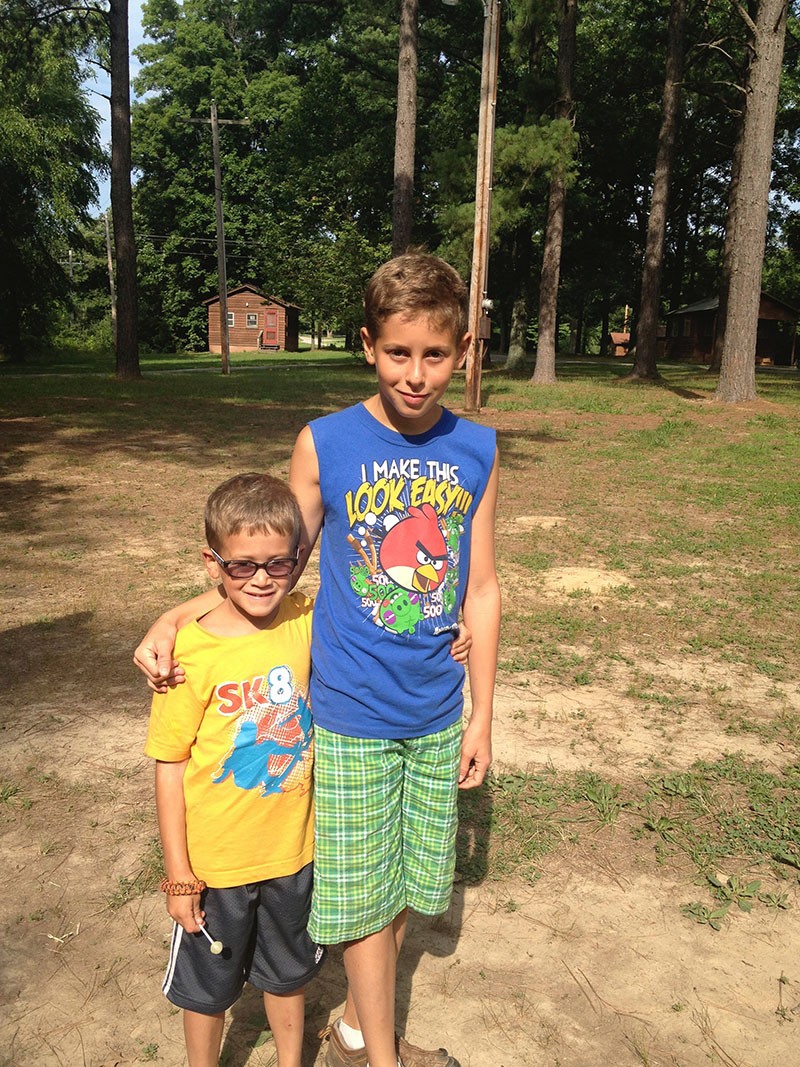 July 2014
by Celia Rothenberg
Without a doubt, my most vivid memory of a "Jewish" experience when I was growing up was Friday night dancing at Camp Ben Frankel, a small, community-based, Jewish sleepaway camp located near the tri-state intersection of Illinois, Kentucky and Missouri just outside of Carbondale, Illinois. Summers in southern Illinois are hot, humid, and buggy, but we all dressed up in our nicest clothes on Shabbat, looking our sunburned best. I loved it.
I went to camp for 10 summers, beginning in the late 1970s, attending as a camper and, later, a counselor, a pattern of attendance common for many who fall in love with the camp experience. For me, camp was a combination of what I imagined to be kibbutz-style communal life and living "close" to the land and nature; it was also my first and most powerful exposure to a staunch Zionist ideology, an Orthodox style of eating and praying, and the typically American belief that anything— truly anything, like making small-town, Midwestern kids into Yiddish-singing, Hebrew-praying, kosher-eating Jews—is possible if you just try hard enough (the popular Zionist song Im tir-tzu, "If you will it, it is no dream," a line from the writings of Theodor Herzl, took on a rather different meaning in that context). Camp was singularly important in shaping the direction of my life's work, which I have spent studying the attraction, the importance and the power of religion.
Three summers ago I began a new research project that looks at the history and present state of my old summer camp. I took my three sons with me; they joined their cabins and I stayed in housing provided for staff who don't work directly with campers. Two of my sons have insisted on returning every summer since then, allowing me to carry on with my research. While my research focuses specifically on Camp Ben Frankel, it speaks to the experiences so many campers have at all kinds of Jewish sleepaway camps. 

One focus of my research is on the feelings of "family" that Jewish summer camps have long excelled at creating for campers. Camps of all kinds—girl scout camps, sports camps and so on—describe their campers as becoming a "family." And, of course, Jewish kids who attend Jewish sleepaway camps already have Jewish families at their homes.What's different and, indeed, particularly powerful about the Jewish summer camp family experience?
To answer this question we need to first ask: What is a Jewish family? One scholar of Jewish studies, Nathan Glatzer, has argued that the Jewish family could be classically, ideally and traditionally, defined as: (1) patriarchal, (2) three generational, (3) a stage for the "wholeness of life," (4) the site for observing all daily Jewish ritual and holidays, and (5) a learning family centrally focused on the study of Jewish texts. This decidedly ahistorical typology obviously cannot be used to accurately describe Jewish families today or, most likely, in the past. As an idealized model, however, it does point to some of the archetypal, if not actual (or even necessarily desirable), factors that have made Jewish families identifiably Jewish.  

Inspired by Glatzer, I argue that camp creates a unique and vivid experience of Jewish family for campers by (1) establishing clear social hierarchies that include multi-generation Jews; (2) creating a self-sufficient, all-encompassing Jewish home; and, (3) suffusing that home with a uniquely powerful Jewish "soundscape." The result is a uniquely physical and spiritual experience of total Jewishness for campers that they remember long after camp has ended.
Camp is specifically and carefully structured to include and delineate campers by age group. Camp is obviously not "three generational" in the standard—biological—sense. The net effect, however, of having campers who return year after year and slowly move up the camp power structure is the creation of a generational-like structure that provides campers with a model for what to look forward to for themselves in the future.
Camp also collapses and coalesces distinctions among home, school, religious school, synagogue and playground. Not only ha-Motzi but also a variety of Hebrew songs are sung before every meal; the Israeli flag is raised with (in this case) the American one; fair play on the soccer field is taught as a specifically Jewish value. In an increasingly fragmented, postmodern world, campers' daily lives revolve wholly around camp's grounds where everything is Jewish.
Finally, Jewish summer camps rock. At most camps, from the moment campers arrive until their very last moments in camp, camp's staff and knowing campers create a Jewish "soundscape." This particular soundscape is made up of old and new Hebrew and Yiddish songs that encompass everything from the early morning flag-raising to the late evening bonfire. The special sounds of camp engulf campers and create a world of Jewishness that fills their ears, and ultimately their hearts.
Gerson Cohen, chancellor of the Jewish Theological Seminary of America from 1972 until 1986, proclaimed that the Jewish summer camp is "the greatest contribution made by American (and Canadian!) Jews to modern Jewish life."  That may very well be the case.