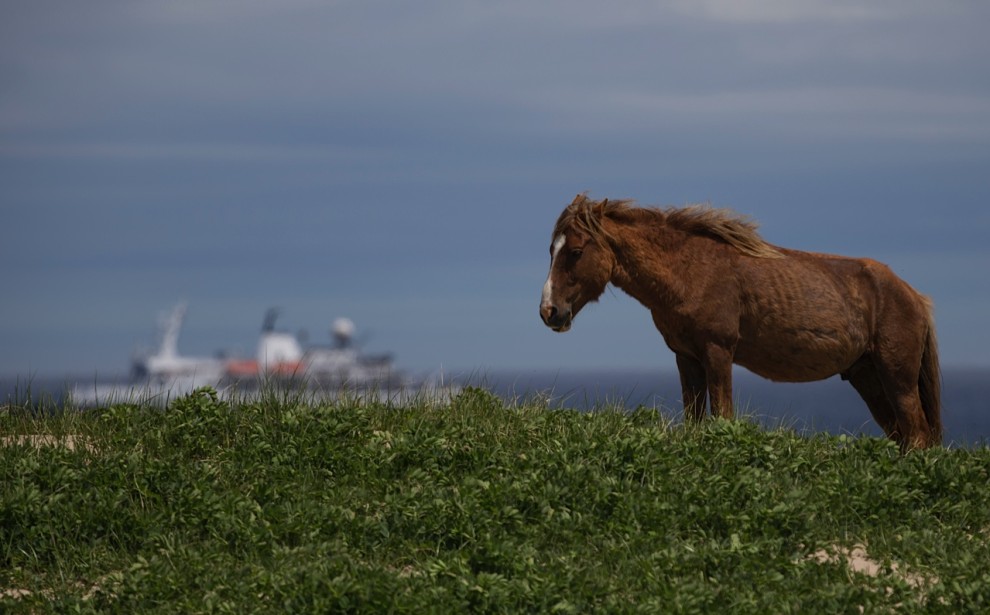 December 2014
​by Wendy Schneider

The man crouched before his subject, camera in hand, in a gentle dance of seduction that culminated with the tenderest touch of cheek against cheek. I must have watched that Youtube clip of famed photographer Roberto Dutesco getting up close and personal with a Sable Island horse a dozen times in the weeks leading up to an Adventure Canada expedition to Sable Island that my husband and I signed up for last June. Secretly harbouring fantasies of my own close encounters with wild horses (as did several of my fellow passengers, I was soon to discover), I was quickly brought back down to earth after learning that island rules demand a 20 metre distance from any and all wildlife.  But dashed hopes would ultimately be replaced by a sense of awe and deep appreciation for an opportunity to simply walk the shores  and witness the magic of such a wild and untouched place. 
Until Sable Island was declared Canada's newest national park in December 2013, visits to the remote island, located 170 km off the coast of Nova Scotia, were mainly by a chartered flight out of Halifax and required special permission from the Coast Guard. But last summer, Canada Parks permitted Adventure Canada to bring two consecutive expeditions to its shores, as a way of collecting data it will use to create a sustainable management plan.

Cruises have never been my preferred mode of travel, but an Adventure Canada expedition is more like a floating university, with daily lectures by a team of experts on various aspects of its out-of-the-way destinations. Among the specialists on board were biologists, marine researchers, photographers, filmmakers, artists and author-in-residence Noah Richler, whose father Mordecai Richler made a famous visit to the island with former Prime Minister Pierre Trudeau in the mid-1990s. Both father and son had been featured guests at Na'amat Hamilton's celebrity author luncheons, and I was looking forward to reacquainting myself with Richler and asking him whether walking in his father's footsteps held special significance.  
Sable Island is known for many things, including the 350 shipwrecks that ran aground its treacherous shoals and led to its being known as the graveyard of the Atlantic; and its wildlife, which includes the world's largest grey seal colony, Canada's largest migratory tern population and the tiny Ipswich sparrow, which breeds only here. But its most famous inhabitants are the wild horses that roam its crescent-shaped shores. Descended from livestock stolen from the Acadians, a French colonial population that was expelled by the British in the mid-1700s, the horses were shipped from the Nova Scotia mainland to Sable Island for harvest. When various attempts at long-term settlement were eventually abandoned, the horses returned to a feral existence.  
All of the above was presented to us during the day-and-a-half's journey from St. John's, Newfoundland to our destination. It was during those briefings that we first learned about the woman who has made the Sable Island horses, and indeed the island itself, her life's work. Zoe Lucas was an art student in her twenties when she first came to Sable Island in 1971 in search of wild horses. Since 1982 she has spent a majority of her time there, studying its horses and marine life, and tracking shark predation, the occurrence of oil on seabirds and the amount of detritus that washes up on its shores.
Playing the role of ambassador, Lucas was waiting on the shore every morning to greet the Zodiacs that ferried us from our ship, anchored offshore, where she exchanged pleasantries and graciously answered our many questions. Noticing a gathering forming around Lucas and Noah Richler one morning, I ambled over in time to hear her regaling Richler with colourful details about his father's visit in 1994. Her description of Trudeau bounding up Bald Dune (the island's highest point), leaving her and the elder Richler in the dust, the latter chain-smoking his way to the top, drew peals of laughter from all of us.
Blessed with beautiful weather and an ocean that resembled the Caribbean more than it did the North Atlantic, we spent three half days and one unforgettable sunset exploring Sable Island's north and south beaches, its fresh water ponds and its wind-blown dunes. In the end, the rule that had us keep a 20 metre distance from our subjects didn't prevent those of us with telephoto lenses from shooting to our hearts' content, fulfilling the dream of a lifetime.

In 1960 the Diefenbaker government passed a law that forbid any interference with the horses of Sable Island. But, although the horse population stands today at a healthy 500, their future is anything but certain. Some biologists, claiming that the horses are an alien species that contribute to the desertification of the island by consuming large amounts of vegetation and compacting the soil, are calling for their removal. (A similar call in the late 1950s caused a country-wide outcry that led to the Diefenbaker ruling.) There is also the question of the island's ever-diminishing number of freshwater ponds, which have sustained the horses for generations. It's hard to imagine, however, any government being willing to end the love affair between a country and its mythical horse population.  
As luck would have it, my husband and I missed the final Zodiac exploration of the island on the final afternoon. Opting out  in favour of relaxing on deck had us miss what my fellow passenger, Jane Perry of Williams Lake, B.C., called the perfect ending to our time on Sable Island. 
"The Zodiacs putted slowly along the shore alongside a group of about six to eight horses galloping along the sandy ridge," she wrote to me in an email. "We caught sight of a lone horse trying to catch up, when one of the horses in the band stopped, wheeled around and galloped back towards the loner."
As the band's lead stallion gave chase to the interloper, the passengers watched, transfixed by the drama unfolding before their eyes.  
"Few of us are able to observe such a scene," wrote Perry.  "Like us, modern horses are domesticated. They live in stalls or outdoors, and even then without the natural interaction of the Sable Island horses. To see such pure equine behaviour will be a lasting memory."
Of the 2007 film Chasing Wild Horses that documents Roberto Dutesco's time on Sable Island, the photographer said that he hoped to inspire people around the world to better appreciate one of the planet's last wild places. Whether the rise of ecotourism bodes well for Sable Island's future, only time will tell. But this writer will tell you to get there while you can.
Wendy Schneider's video of Sable Island:
From the film Chasing Wild Horses:
Rick Mercer visits Sable Island: