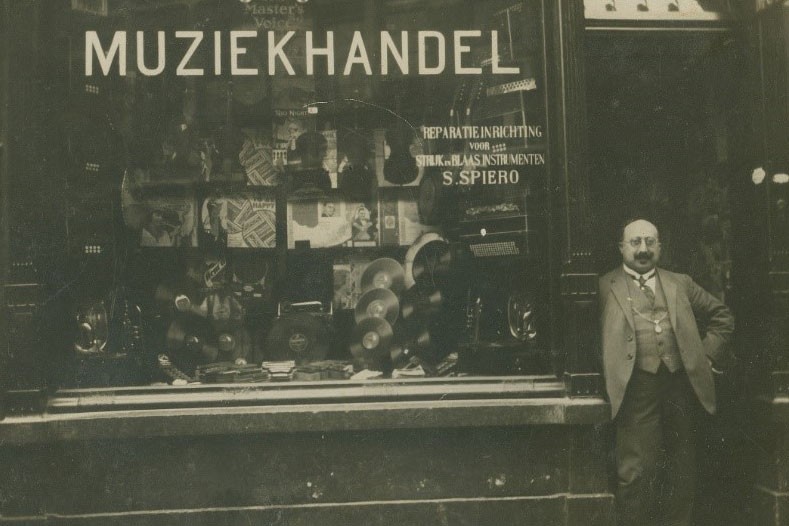 December 2019
Jacki Levin
Before the Second World War, 's-Hertogenbosch (Den Bosch), a city in the south of Holland had a population of 50,000 people, including 500 Jews. Among them were my grandparents, my mother and her eight siblings. They lived a rich Jewish life with an organized Jewish community and a shul.
Holland's Jewish population of 140,000 was severely decimated in the Shoah. France lost 25 per cent of its Jews, Belgium and Norway each lost 40 per cent, but at least 75 per cent of Holland's Jews were murdered by the Nazis, the third highest in Europe after Poland and Greece. Today, only about 35,000 Jews remain in all of Holland.

After Den Bosch's liberation, only 200 Jews returned to the city. Today, the population of Den Bosch has ballooned to 150,000 but there are no Jews living in the city. The city, however, has not forgotten its pre-war Jewish population. On Oct. 24, the city of Den Bosch celebrated 75 years of liberation from the Nazis by honouring my grandfather, the musician and composer Simon Spiero, who had been the leader of the Jewish community.

My husband Larry and I, as well as my brother Simon (named after our grandfather) and his wife Janice attended the Den Bosch ceremony. It was an emotional experience for us and for many of my Dutch family who also attended. 
Of our mother's family, both of our grandparents and seven of nine siblings survived the war. This is quite incredible when you look at how few Dutch Jews survived. Sadly however, my grandfather, who was diabetic, and who had retinal hemorrhages while in hiding, was unable to get medical attention. Although he completely lost his vision after the war, he continued composing and running his music shop. My mother, who was the oldest of the children, spent the war in hiding with her youngest sibling. That sister, Sophie, still alive at age 94, spoke at the ceremony.

It was a joyous, meaningful, emotional and yet sad experience. The ceremony at the seventeenth-century City Hall was attended by about 100 people (20 of them family). As we entered the council chambers an orchestra in the balcony played pieces composed by my grandfather. Speakers at the ceremony told the history of Jews in Holland and recounted the essentials of the life of Simon Spiero, while projecting pictures of him and his family. My aunt Sophie (Tante Fiet) was interviewed about her experiences during hiding and of her recollections of the liberation. In between speakers, the orchestra played some of our grandfather's joyful marches. 

As it happens, the day before the ceremony was the anniversary of my parents' wedding. They had been married in that very city hall on Oct. 23, 1945. My father, a Canadian soldier, and my mother, who worked for the Canadian army as a translator upon returning from hiding, were both in uniform. The mayor of Den Bosch took us to the wedding room where my parents had been married. It is a beautiful room with gold leather wallpaper. The room contained the same wall coverings and chairs as it had when my parents married. In 1945, there were no rabbis and the chuppa had to wait until they both came to Canada after the war.

Why was it sad? Of course, I missed my parents and felt their presence in that building and in the streets of Den Bosch. But what was saddest to me is the fact that there are no Jews remaining in Den Bosch, no shul (although it's been preserved as an event space for concerts and lectures) and no Jewish life. 
The joy was in being together with our family, in hearing my grandfather's music and mostly in the fact that Den Bosch has not forgotten its Jewish history.
Caption: Jacki Levin's grandfather, Simon Spiero, in front of his music store.