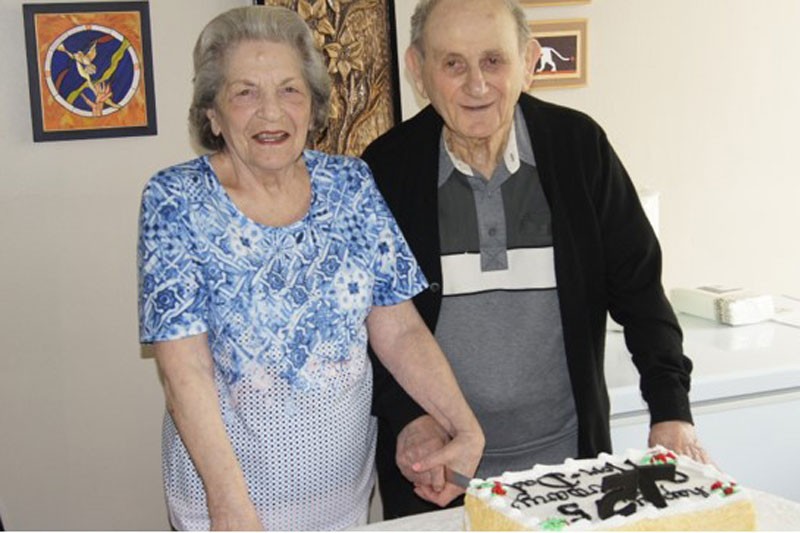 July 1018
Barry Rosen

My mother-in-law Pearl had gone out shopping. She arrived home in a very excited manner.
"It happened again!" she said. She then told my wife Leslie and me the familiar story of how she had met yet another stranger while out in the community. The stranger had asked Pearl how long she's been married. When she told him that she and her husband Dave will soon be celebrating their 75th anniversary, "he just couldn't believe it! He also couldn't believe that I am 92 years old!"  

It soon became clear as we continued the conversation that it was Pearl who had initiated the discussion with the stranger. It was also Pearl who had elicited his responses by asking "guess how long I've been married?" and "guess how old I am?"

It is likely that this stranger would have been equally incredulous to discover that my in-laws recently celebrated their 75th anniversary.

Pearl is 92 and Dave is 93. When they got married in 1943 Pearl was 17 and Dave had recently turned 19. They have three children, four grandchildren and two great grandchildren. 

The Viners' current lives are not without some of the challenges associated with being older adults, but they are capable of so many things, especially connecting with family and engaging in interesting discussions about their present and past lives, news of the day, and other topics too numerous to mention.  

A little while ago, I had the pleasure of conducting separate interviews with Pearl and Dave, whom I asked about their first impressions on meeting each other. 

Pearl told me she was16 when she first met Dave briefly in a Toronto delicatessen. She met him again a short time later at a party that she attended with a friend. They danced together and told each other that they were good dancers. After a while, she said, "Dave started telling me he liked me, and months later he asked me to go steady."  Pearl described Dave as a good talker as well as a good listener. They had a lot of fun together, with dancing being their main focus.
Because they were both "underage" my in-laws had to get permission from their parents to get married. Pearl's mom loved Dave from the beginning and always treated him as if he were her son.  Her dad, being very protective of his daughter, had some initial difficulty with the relationship but eventually grew to accept Dave as well.

My father-in-law has a gentle nature and a very kind heart. He is less outgoing than Pearl but is a good conversationalist once you draw him out. Dave earned his living as a scrap dealer and still tells stories about all the deals that he scored and how much he enjoyed his work. After retiring many years ago, he participated in various hobbies such as woodcarving. 

While Dave didn't recall the specific location where he and Pearl first met, he, too, emphasized the importance of dancing in their early relationship. He shared an especially fond memory of a late-night dance cruise they once took from Toronto to Port Dalhousie. When they arrived back in Toronto it was three in the morning and they were scared to go back to Pearl's house, for fear of her dad's reaction. 

As in Pearl's version, Dave described his wife's father as "kind of scary, as he wasn't too keen on guys coming around, but eventually he accepted me." 

When I asked Dave when he knew that Pearl was the one for him, he told me "I loved her from the minute I saw her." He wasn't sure if she would have similar feelings for him and he was elated when things worked out.
Dave and Pearl find it hard to believe that they have been married for as long as they have. 

A true romantic, Dave said, "I'll never know if we would have ended up getting married if not for the dancing," adding that his and Pearl's relationship "is really all about love."  

Should you have the opportunity to meet Pearl and Dave it is very likely that you would agree.
Barry Rosen,  a retired social worker, has loved words, stories and books almost since birth, and was the founder of the Hamilton Storytelling Circle.