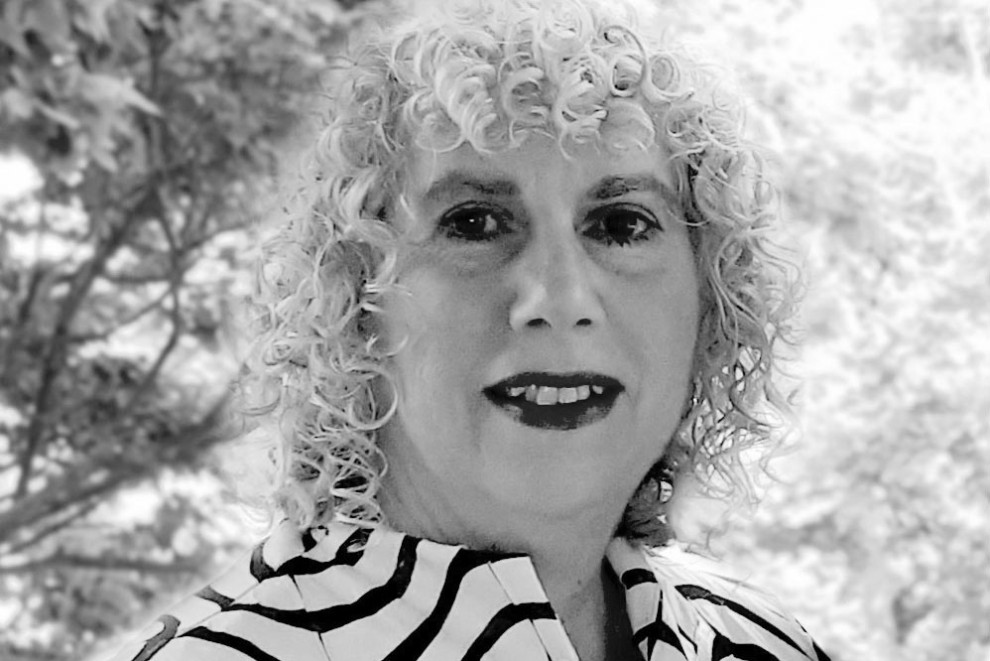 Sept 2023
Helaine Ortmann
On this Thursday morning, white clouds set against a bright blue-sky canvas, we visit our Hamilton family. 
Our first stop is Temple Anshe Sholom cemetery where auntie Anne and uncle Butch (Al) Gluckstein, forever in our hearts, rest; steps away from my husband's parents, Bertha and John Ortmann. Muscle memory takes us to their grey-black stone. In 1980, after a brief illness, John passed away, two years after we married and three years before our first son was born; Bertha in 2008, loving grandmother to our two sons until they became young adults. 
John met Bertha, a Holocaust survivor, in England during the Second World War. She followed him back to Canada, first living in Saskatchewan. Bertha, an educated cultured Berliner, was a stranger in a strange land on that remote rural prairie and the couple decided to move east. First to Brampton where John worked as an aviation mechanic in the government's ill-fated Avro Arrow jet-fighter program, then to Hamilton, to rebuild their lives. 
Our second stop is the Ohev Zedeck cemetery on Upper James to visit my maternal grandparents, Bessie and Harry Kessler, who fled "White Russia" (Belarus). A cabinet maker by trade (he made the pews that were relocated from Hess Street shul to Shalom Village chapel), Harry passed away in 1950, at age 65, from a heart attack. My mother, then in her early twenties, was heartbroken; a loss that went unresolved throughout her lifetime. Bessie, as soft and gentle as her given name "Pessl," passed away in 1964. As if for the first time, I note her age, 77, on their pink-coloured stone. How could it be that my white-haired Yiddish-speaking bubba was only seven years older when she passed than I am today? 
Our third and fourth stops are the Grand Order of Israel (GOI) cemeteries on Snake Road. Across the bridge, we visit the shiny black headstone of my father and mother, Syd and Ethel Levy. Last fall, armed with shovels and mulch, my sister and I planted rose-coloured sedum with white variegated leaves at the sides of their stone. Clusters of flowers blooming in spring and lasting for the whole season would please our garden-loving mother, complementing the spray of three roses (one from each of her devoted children) engraved at the foot of her side of the stone.  At the bottom of my dad's side is a bar of music: the first notes of a love song that he wrote. Our mom never liked it; it embarrassed her. 
Syd was a storyteller, entertainer, singer and bandleader. With that wavy black hair, charm, flair for dance (at age three, he won the city's Charleston championship) and his ability to speak Ladino (a mélange of Spanish, Turkish, Hebrew, Arabic, Greek, French, Bulgarian and Italian), he was our Ricky Ricardo. Ethel (Levy, not Mertz) was always there for him; until 2 or 3 in the morning when he got home, flushed and excited, from the simcha he and his band had just played; or as his steadfast caregiver over the five years of decline brought on by a series of strokes soon after he retired.
Auntie Betty and uncle Joe Levy are beside my parents; a location we cousins know serves them well. For years, these four (plus siblings and closest friends) played poker, rotating houses and hospitality, every Saturday night. As they got older, these penny games became more competitive, and nerves frayed. Telephone calls to their children (us) on Sundays sounded like Leonard Cohen's version of Unetanneh Tokef; intoning who cheated or tried to, who didn't throw their money in, who was too slow, or who didn't know what made a winning hand. 
Four or so rows behind them are paternal grandparents Vinucha and Uziel Levy who emigrated from Romania and Bulgaria. At the time, they were the only Sephardic family in the community, speaking Ladino in the house and cooking foods that were different from their East European neighbours. 
At the back of the cemetery is aunt Rose Rena Levy, 49, who passed away in 1965; a time when breast cancer was not talked about openly, well researched or fundraised for. We finish our visit in the first of the two GOI cemeteries remembering auntie Mary Mayer, auntie Rae and uncle David Oppenheimer; all loyal friends and confidantes to their nieces and nephews.
Helaine lovingly remembers family members who made lasting impact on her life.