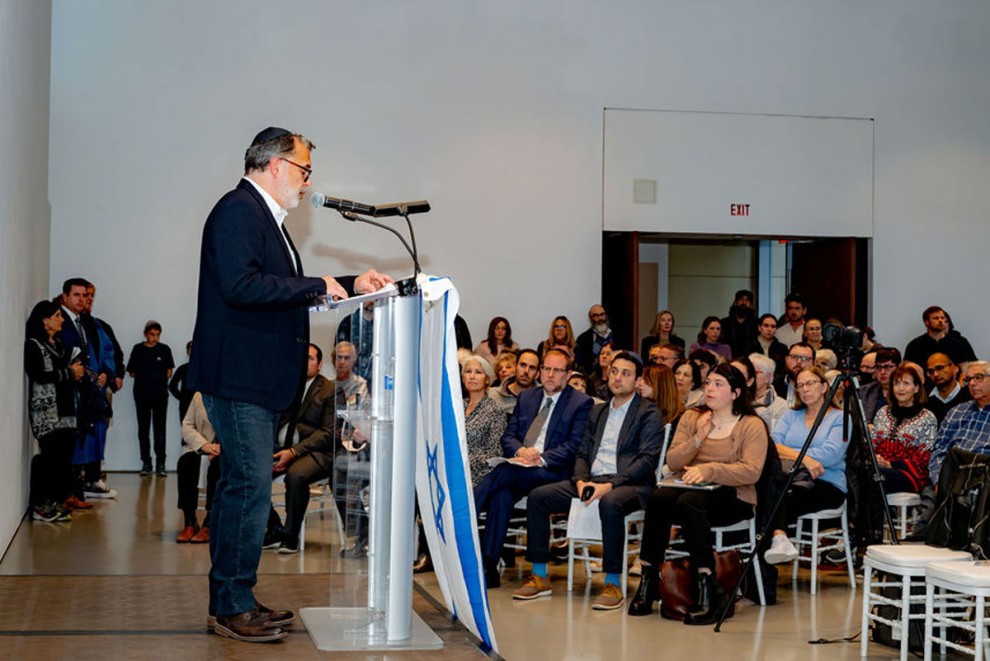 November 2023
Wendy Schneider

The deadliest day for Jews since the Holocaust — and its aftermath — have shaken the foundations of Israel and the Jewish world.  Within days of the Oct. 7 massacre, Hamilton Jewish Federation launched an emergency campaign, which raised more than $1.1 million in three weeks for urgent needs in Israel. On the homefront, needs are equally urgent. The open hatred of Jews that's found expression on city streets and university campuses around the country has prompted Federation to put the safety of Jewish institutions at the forefront of its priorities, at the cost of  more than $20,000 a week. 
With Hamilton's Jewish community on high alert in the face of massive pro-Palestinian protests calling for the elimination of the Jewish state, fundamental aspects of Jewish life are bound to change, but for the Hamilton Jewish Federation, it's business as usual, because assessing and responding to community needs is what Federation has always done.  

CEO Gustavo Rymberg has been spending a significant part of his days fielding calls from worried parents and concerned community members, consulting with representatives from the Hamilton Police Services, City Hall, the school boards, all while staying on top of regularly scheduled Federation programs.

As a native of Argentina, Rymberg lived through the 1992 and 1994 bombings of the Israeli embassy and Jewish community centre in Buenos Aires, and he has much to say about what he is calling a critical moment in Jewish history.  

In the following interview, he discusses how the war in Israel has impacted the work of Federation and how they are overcoming the unique challenges they are currently facing. 
Q

How are you feeling about the crisis Israel and the Jewish world are facing?
A
This is a critical moment in Jewish history. This has changed everything and nothing is going to be the same. Not in Israel and not in our community. 
Q

What is the most significant impact this war has had on Federation?
A
The fact that our number one priority right now is security, that there are people who are afraid to send their kids to school. That Federation funds are going to security instead of our beneficiary agencies. 
Q

How much has been raised for Israel emergency funds being spent?
A
The North American Jewish Federation movement has raised more than $550 million, including $120 million from Canada for medical supplies, trauma counseling, relocation for families living in the south, cash assistance for basic needs and to families of those killed, injured, kidnapped, first responders and more.  
But this effort to help Israel in her time of need is not about one or two months — this is going to take years. We are not only talking about rebuilding towns and kibbutzim. We have to rebuild people. We have to rebuild mental health. Everyone in Israel has been affected by this traumatic experience. This is going to be a long, long road.
Q

How has our community changed as a result of these terrible events? 
A
There are many changes. The community support for the emergency campaign was incredible. People who've never given are contacting Federation and asking how they can support the Campaign. People are also asking about security. There's a lot of anxiety. Another change is that young people who were very critical of Israel before Oct. 7 now have a deeper understanding of what Israel is facing. 
Q

What are you hearing from parents?
A
Parents of children in the public schools are reporting  troubling incidents, which we take up with the Board of Education. There are a lot of problems in the public school system and I have to say they're in a very difficult situation because of the lack of a proper protocol to deal with antisemitism and anti-Israel issues, and their need to equally support both sides. The other problem is that the Board of Trustees voted two years ago against any police presence in the schools, so if there's an incident in the public schools the police cannot be there. 
Q

What does the day after look like for our community?
A
I think our community will be stronger and more united. I think people will reconsider joining, belonging, or contributing to a Jewish organization.  I think more families will consider sending their children to Jewish day schools. We have to be vigilant, but not stop living Jewish lives. 
Q

What would you say to someone who is considering removing their mezuza from their front door?
A
I think it's a huge mistake. What's next? Stop going to a synagogue or to a Jewish event? Every form of Jewish expression we stop doing is a win for Hamas and antisemites.
Q

What message do you have for unaffiliated members of our community?
A
Be in touch. Report incidents to Hamilton Police Services and Federation. It's very important to report incidents of antisemitism to the Hamilton police.  If we know the numbers are high, it helps us make our case for the need for more security. Send letters to media outlets. Be active. It's not good to be upset and stay alone.
RELATED
:
Shpiel on Hamilton, Israel at War, It's Personal, Episode 1