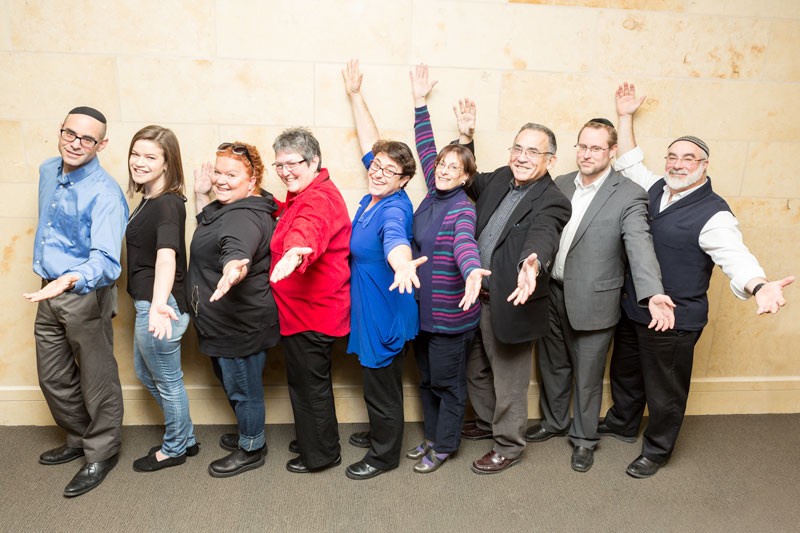 March 2015
by Barb Babij

Paradoxically, one of Jewish Hamilton's greatest strengths and biggest challenges is its size. We are small enough to be able to pull together and accomplish incredible things. We are also small enough that individual organizational agendas can fragment the community. With this in mind, Federation convened a cross-community educational working group to begin to explore how we might work together – we named it "Us for Us". 

What Rabbi Dan Selsberg (Beth Jacob Synagogue), Nomi Cuneo (Federation), Rina Rodak (Beth Jacob Hebrew School), Joanne McIntosh (Hamilton Hebrew Academy), Laura Wolfson (Temple Anshe Sholom), Barb Babij (Federation), Peter Greenberg (Kehila), Rabbi Daniel Green (Adas Israel Congregation) and Rabbi Jordan Cohen (Temple Anshe Sholom) have in common is a commitment to excellence in Jewish education and a desire to make it more affordable and accessible. We came together in December and again in January to talk about the possibility of organizing a cross-community fundraiser to be held in 2016, funds that would be used for access to Jewish education across the communal spectrum. Those initial meetings, however, have been eclipsed by reality. 

First, Rabbi Selsberg announced his intention to leave Hamilton, and will no longer be in the picture (figuratively and literally). Second, as you will read elsewhere in this paper, Kehila has since announced that it lacks the funds to continue to operate in its current form. This does not augur well, as a vibrant and healthy Jewish Hamilton requires members who are engaged with Jewish life and who are Jewishly educated and literate. 
Evidence indicates that the duration and quality of a child's Jewish education has a strong correlation with subsequent engagement with Jewish life. And choice of Jewish orientation is critical. Together, our two day schools provide a true pluralistic choice for families who want their children to receive a Jewish education. Without this choice, it will become even more difficult to attract families to Hamilton and continue the rich diversity we have today. If Kehila were to close, it is likely that this choice will be gone for good.

Federation supports both schools, but Jewish education in Hamilton is in flux. During the period between Fall 2011 to Spring 2015, attendance at Jewish day schools in Hamilton decreased by 24 per cent, factoring out the children who are bussed to the HHA from Niagara and Kitchener-Waterloo. During this same period, attendance at Jewish afternoon schools decreased by 32 per cent. Interestingly enough, overall funding for Jewish education in Hamilton has remained relatively stable during this same period, with only a slight increase (about one per cent) due to the two new initiatives supported by Federation last year – special needs and cross-community educational programming.

In our continuing dialogue of community sustainability, on the revenue side, we could hold one fundraiser in 2016 for access to education. On the cost side, we need to consider how we can most effectively support Jewish educational choice. We need to provide the best secular education we can afford, to give our children their best shot at competing in an increasingly competitive world. We need to provide choice across the entire spectrum of Jewish theology as well as multiple entry points to that education. One alternative is a single school, where children from across the community would come together for both secular and special needs education. With regard to Jewish education, a single school could provide two distinct tracks – an orthodox and a progressive. This is only one alternative, and with the barest of bones.  

We'd like you to join the conversation. Please call me at 905-648-0605, ext 305 or email bbabij@jewishhamilton.org.