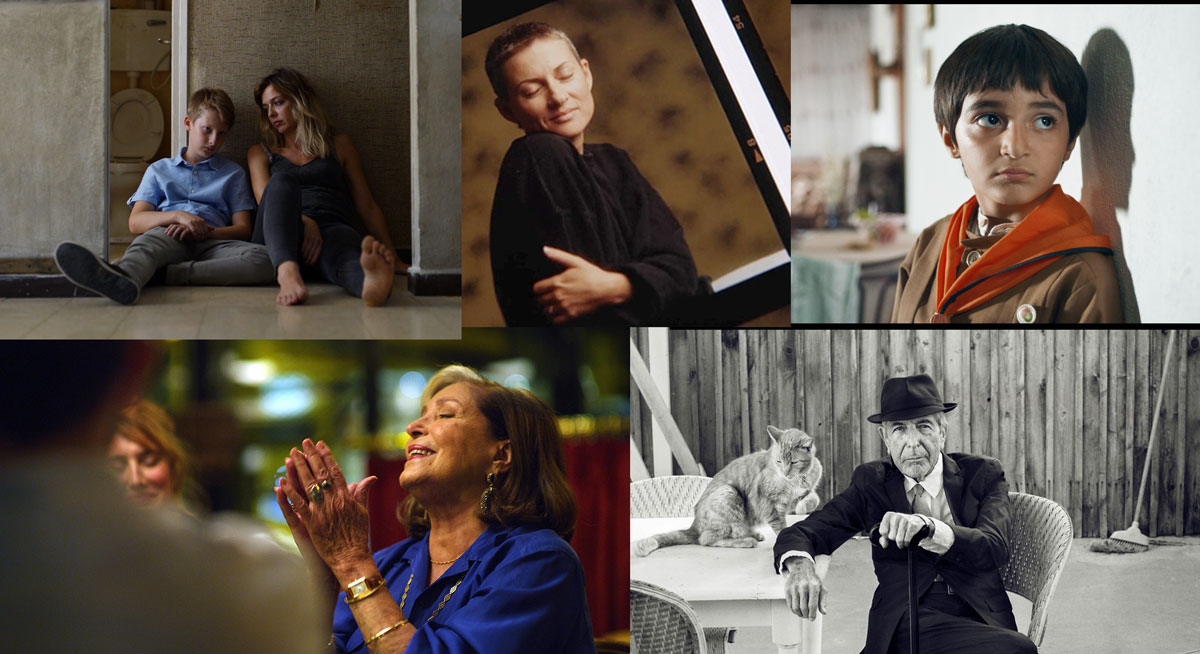 December 2022
Helaine Ortmann

"A filmmaker's most important tool is humanity. You want to be able to capture humanity in your stories and bring out humanity in your characters." 
Ryan Coogler, co-writer and director of Black Panther and its sequel Black Panther: Wakanda Forever, could well have been talking about the slate of films offered up at the next Hamilton Jewish Film Festival, that will be returning to The Westdale from Feb. 26 – 28, 2023. Films that articulate the Jewish and universal human themes of: displacement and belonging; love, loss and grief; mortality and acceptance; antisemitism and racism; joy, exaltation and transcendence. 
Now in its fifth year, the Festival continues its mandate to bring entertaining and thought-provoking films to engage the broadest spectrum of the Jewish community, and provide an opportunity for the greater Hamilton community to learn about Jewish culture, Israel and Jewish history.

Over a period of months, a committee of volunteers as diverse as the films themselves, screened features and documentaries to select five titles aimed at attracting cinephiles and those who happily self-identify as "movie buffs." 
Following the opening reception, the curtain rises on Sunday, Feb. 26 at 1 p.m. with More Than I Deserve. Nominated for seven Israeli Academy Awards, this Jerusalem Film Fest Best Screenplay winner captures the raw and unadorned story of Ukrainian-born mom Tamara and 12-year-old son Pinchas as they seek to survive and thrive as new immigrants to Israel and develop an unlikely friendship and relationship with their religious neighbour, Shimon. 
At 3:30 p.m., there is Rose, a tour-de-force portrayal of a Parisian wife, mother, and grandmother who, at age 78 after the loss of her husband, seeks to pick up the pieces and recreate herself. The film probes familiar and consequential questions. Does she— an older woman—  still hold value as a matriarch in a family that no longer seems to need her and is preoccupied with their own generational issues? Can she, how can she, step forward, with grace and integrity intact, into a new life that is predisposed to youth and performance? 

At 7 p.m., On This Happy Note delves into the personal and psychological landscape of Anat Gov, one of the most influential playwrights in Israeli theatre, as she faced a terminal diagnosis of cancer. Not maudlin, at times humorous, the film, produced almost a decade after her death, uses her own words, excerpts from her plays, and footage of her family and friends to trace Gov's coming to terms with the end of her life and her wish to leave a happy ending. A Q&A follows the film with virtual guest Dr. Marissa Slaven, palliative care physician. 
The Festival continues on Monday, Feb. 27 at 7 p.m. with Neighbours, an uncompromising film that uses humour and satire to depict the childhood of little Sero as he experiences life in a Syrian border village in the early 1980s. The lessons he learns in school (do not speak Kurdish, venerate Assad, promulgate hate toward Israel and Jews) are upsetting and confusing to him; moreso because his next-door neighbours are a loving and caring Jewish family. The film, inspired by the director's personal experiences, is followed with a conversation with virtual guest Dr. Scott Abramson, modern Middle East historian and a postdoctoral fellow in Israel Studies at Northwestern University. He will talk about Middle East minorities and Israel's relationship with the Kurdish nation, past and present. 

The Festival closes on Tuesday, Feb. 28 at 7 p.m. with the acclaimed feature-length documentary, Hallelujah: Leonard Cohen, A Journey, A Song. As the most definitive exploration of the singer-songwriter through his iconic hymn, the film accesses never-before-seen archival materials including Cohen's personal notebooks, journals and photographs, performance footage, and rare audio recordings and interviews. Following the film is a conversation with virtual guest Cantor Gideon Zelermyer of Montreal's Congregation Shaar Hashomayim who collaborated on "You Want it Darker," the title song of Cohen's Grammy Award-wining album. Cantor Zelermyer officiated at Cohen's private family funeral. 
For the full schedule, film trailers and to order tickets, click here.

LISTEN TO THE SHPIEL ON HAMILTON PODCAST FILM FESTIVAL EPISODE